Delicious BBQ Restaurant Near Parma OH
Famous Dave's - The Preferred BBQ Restaurant When You're Hungry!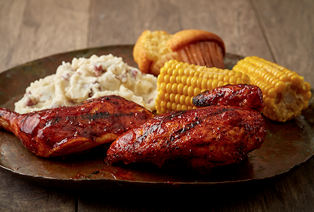 When Grandpa's grill is too far away and Grandma's good old-fashioned fixin's aren't in sight, it's time to find a solution. No, it's not to spend hundreds of dollars attending culinary school and learning to be a top grill master ... although if that's your thing, we totally applaud you. But we were going to suggest something a titch easier: Head on down to Famous Dave's BBQ restaurant in Cleveland, where the atmosphere is always cozy, the price is always right and you can get that cozy dining experience without flying Pops in or earning that diploma. Welcome to the family restaurant you'll want to call home forever. And guess what? We'll let you, because the more the merrier.
With hundreds of national awards already under its belt, Famous Dave's opened on November 1, 2004 in North Olmsted, OH. Barbeque aficionados and local families waited hours for a chance to pig out on the best darn BBQ ever! Famous Dave's has spent over a decade preparing Cleveland's best barbeque. Our pitmasters arrive early every day to prepare our scratch-made sides and homemade desserts. Our smokers never sleep, and you can smell that real hickory wood smoked meat from blocks away.
View Our BBQ Restaurant Dine-In Menu

The BBQ Restaurant You Can Call Home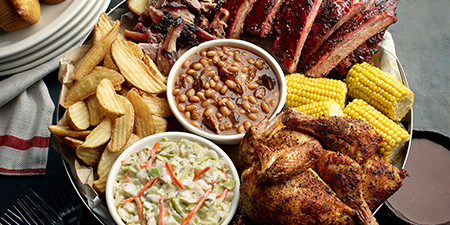 Okay, fine, so you can't actually set up a bed here, but at Famous Dave's, you can do pretty much everything else you can do at home. Kick back and enjoy a long conversation with friends, order round after round of your favorite brew (or Shirley Temples for the little ones), and get seconds. Or thirds. Or ...
We throw hundreds of slabs of meat on the grill every day at our various eateries, and the story is no different here in Cleveland. On a daily basis, we're bringing you some of the best barbecue in the nation, from meltingly sweet slow-cooked pork to beef and chicken you won't want to stop eating. What's not to like?
Why Choose Famous Dave's for Your BBQ Restaurant Of Choice?
You mean besides the cozy & welcoming atmosphere? When you slide into one of our comfy booths, you'll get so much more than food. You'll get:
A rustic atmosphere, complete with bright d©cor, low lighting and fairy lights
Artwork to set the scene
Wooden walls and furniture
A roomy but familial layout reminiscent of family holiday dinners
Admit it, that sounds just like the BBQ restaurant you've been looking for. Next time you want to celebrate a birthday, anniversary, retirement, engagement party or even a down-home wedding, you can do it right here within our walls -- or call on us for our epic catering services. Either way, we're here to help you find delicious, satisfying food and a grand ol' time.
---
When You Just Don't Want to Have a Seat
No matter what you're looking for in a barbecue restaurant, we've got you covered. With sides ranging from mac and cheese, mashed potatoes, green beans and bake beans, as well as desserts such as brownies and bread pudding, we're right here for you. You can order our tasty food to go, or pull up a chair and dine for hours. Whether you're in the company of family or friends, coworkers or a long-awaited session with your journal (hey, we admire your introspection), we've got the grub to keep you happy while you enjoy yourself.
---
Love Our Sauce? Take It Home With You!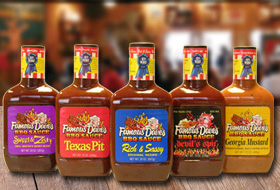 Rich & Sassy® mild
Buffalo


Pineapple Rage®



Devil's Spit®



Wilbur's Revenge®




---
Stop by our BBQ Restaurant conveniently located near Parma OH in North Olmsted -
Stop by
today for award-winning barbecue food!