Looking For The Best BBQ Ribs Throughout Cleveland OH?
Award-Winning Barbecue Ribs from Famous Dave's!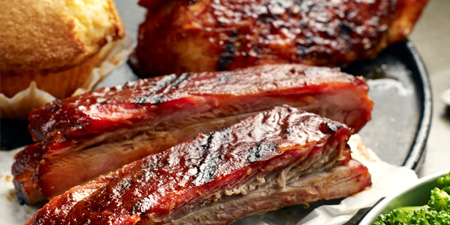 No one ever said, "Hey, you know what we should get today? A rack of subpar ribs with some slightly odd-tasting sauce and gluey mashed potatoes! Ready, everyone??" We're pretty sure that's not what you're looking for this evening, or any time you set out to have a grand dining experience. No, you want the best BBQ ribs, and who can blame you?
Well, we've got good news for you, folks: We can honestly say we have the best ribs, at least according to the 700 awards we've earned since throwing our doors wide in 2003. That's right, our restaurants in Michigan, Ohio and Illinois have earned us hundreds of accolades in grill competitions, magazines, local organizations and more. What more do you need to rest assured that our ribs are topnotch, our sauces delicious and our mashed potatoes as fluffy as the prettiest clouds? And sometimes we get a little poetic too.
You're welcome.
---
Get The Best BBQ Ribs Here at Famous Dave's
We don't want to start any fights with dads out there, nor do we want to challenge their "World's Greatest Grill Master" aprons. Because dads, we're sure you've got it going on. Same goes for your grillin' ladies, because we know you've got skills too. So let's just leave this whole "best BBQ ribs" thing behind and say we've got really, really good ribs -- and when you don't want to do the cooking, we've got you covered.
Nevertheless, when you're looking for that family experience that tastes just like home, only with far greater variety and way less work, we're here for you. Whether "here" is at one of our adorably outfitted restaurants, or at your festival, dance, wedding, corporate picnic or other fiesta. Our catering company has a topnotch reputation, so we're well-versed in bringing our magic to you in style. Enjoy our slow-cooked ribs, brisket, pulled chicken and pork, and stunning array of sides -- wherever you are.
But Really...We ARE the Best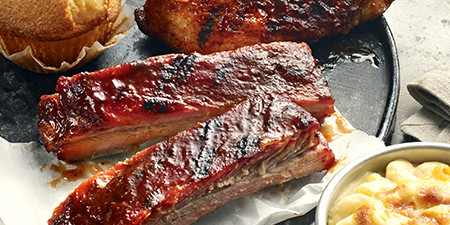 Jeez, we're sure flip-flopping today, aren't we? But we decided we just couldn't let you go without giving you some proof of that whole "best BBQ ribs" thing. We don't want to brag, but we've so far won 10 Restaurant of the Year awards, and our Blue Ribbon Restaurants have earned three Franchisee of the Year awards. We consistently earn awards from local publications as well. For instance, in 2017 we hit No. 1 on Cleveland's Hot List for barbecue.
If you're ready to try the world's best ribs, come on in today. You can sit down and dine in our restaurant or carry out lunch to go. If you have a corporate event or wedding coming up, we'd be delighted to help you out there as well. Our many side dishes and desserts complement our ribs perfectly, creating the true southern dining experience. Feel free to give us a call today, or just spend some time clicking around our site. We don't promise it won't make you hungry, though.
---