Top-Rated Catering Services In Avon Lake OH
Searching For the Leading Catering in Avon Lake OH? - Choose Famous Dave's!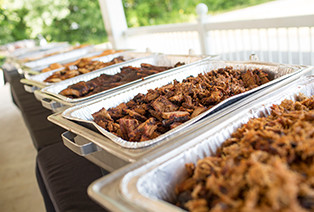 We know you have lots of choices when it comes to hiring a caterer, but when you want that fingerlickin' good downhome experience, it's time to call in the big guns. Or the big racks, if you will. Here at Famous Dave's, we've got the epic ribs, briskets, pulled pork and chicken to make your event shine.
Our huge selection of southern inspired foods doesn't end there, though! Have we mentioned we maintain an absolute legion of sides at all our restaurants and on our catering menu? We've got vegetarian options, such as Portobello and bean burgers, to please the alternative eaters among your guests. We keep a constant supply of mac and cheese on tap, as well as baked beans, cornbread, potato salad, mashed potatoes, green beans and more traditional goodness. Dessert? Don't you worry: bread pudding and hot fudge brownies are just the beginning. Our beverage game is also on-point. From pops to water bottles, we'll make sure everyone is well-hydrated in the manner of their choosing. Because we're just cool that way.
It's not only our great food that's won us more awards than any other barbecue eatery in the country, though. It's also our friendly service and excellent catering. Well, and the fact that our barbecue is just plain the best in town. That probably helps too.
View/Download Our Catering Menu

---
Catering Services in Avon Lake OH from Famous Dave's
Don't wait to get us on the calendar for your next event. No matter what you're celebrating, we've got your back. Consider:
Corporate Catering
When you're trying to throw the perfect event, it's hard to keep all the variables in place. You're got to make sure everyone has a good time, is motivated to show up and stay awhile, and that Maria from Accounting and Bob from IT don't start fighting again. (Seriously, what's with those two?)
When you have so much on your plate, it's crucial you let someone else worry about what goes on the ... well, plate. We'll help you customize the perfect menu, complete with entrees, sides, desserts, drinks and appetizers such as chicken wings. Yum, and all for a price you can justify on your expense report. Just pick what you want, then check it off your list. The rest is up to us, and we never disappoint.
Delicious food does more than satisfy our appetite. It bonds us together. You can use our food to create conversations between people who are just meeting each other, to smooth the edges of a tough interaction and to help relationships bloom. When two people share a roasted chicken, or a crowd laughs at everyone else's attempts to get barbecue sauce off their fingers, friendliness ensues. That's exactly what you need at your event, no matter what the stated purpose of that event is.
---
Party Catering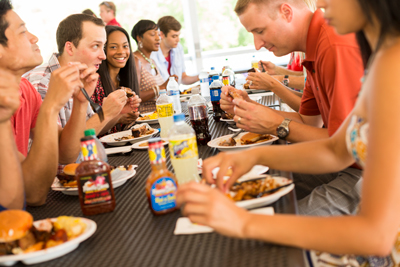 It's party time! You've got a lot to plan, but food isn't something you need to stress about. Just give us a call, and we'll roll out our amazing menu for you to choose from, then help you plan the perfect list of offerings for all your guests. Whether you're throwing Mom the perfect over-the-hill bash, sending someone into retirement in style or catering a kiddo's party, we're here for you. You can trust us to do it right with our huge array of BBQ and sides. Oh, and dessert, of course. Because, duh.
If you need catering for an outdoors event in Cleveland, we can help you there too. Our tray service or food truck could be the perfect choices for your backyard event, your company picnic or a wedding in the park. No matter what you're celebrating, you need a good catering company with excellent service and Famous Dave's delivers it. Wherever your event is set, you'll find our menu perfect for:
Weddings
Showers
Rehearsal Dinners
Retirement Parties
Birthday Parties
Graduations
Holidays
Corporate Events
Family Picnics
Reunions
... and more.
Graduation Catering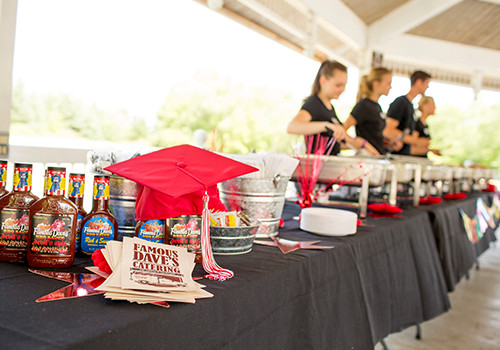 Time to celebrate the graduate. The classes are finished, the tests are taken and the madness of school is over. For now, at least. Whether your graduate is headed on to an amazing college, or has just completed university or a master's degree, it's time to show them how proud you are. And what better way to their heart than through their stomach? Ribs are magic, we tell you, so let them make your celebration special today.
You have an ideal budget. We get it. So, we offer a variety of food to mix and match to meet your goals. No one can deny, that every successful graduation party starts with delicious food. And Famous Dave's is our favorite option for graduation parties on any budget. If you love delicious, slow-cooked meats finished on the grill for that crispy texture, you'll love the options we bring to every event. You can choose your favorite from our offerings, which include:
Meat Selections: St. Louis-Style Spareribs, Texas Beef Brisket, Georgia Chopped Pork, Country-Roasted Chicken, Barbecue Chicken, Barbecue Pulled Chicken, Hot Link Sausage, Grilled Salmon, Grilled Chicken Breast
Side Dish Selections: Wilbur Beans, Creamy Coleslaw, Potato Salad, Garlic Red-Skin Mashed Potatoes, Dave's Cheesy Mac & Cheese, Green Beans
---
Wedding Catering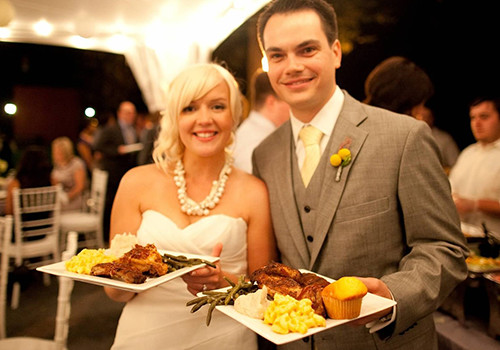 Tying the knot is about more than saying "I do" at the altar. While this might be the most eye-watering moment, mouth-watering is just as important ... at least to your guests. When you hire Famous Dave's to cater your wedding, you'll get that saucy downhome experience you've been looking for. Our food is the perfect complement to any barn wedding or outdoor extravaganza. Just let us know how we can help!
We're not saying barbecue isn't the perfect meal to serve at any type of wedding, because honestly, we couldn't in good conscience say that. What we are saying is this: a delicious meal of slow-cooked ribs or brisket, some perfectly smashed red-skinned potatoes, the greenest beans and the most perfectly flavored coleslaw make for the ideal casual experience. Barbecue is perfect for:
Outdoor Weddings: Nothing is more perfect for big days set out in the beauty of nature than barbecue. The aromas of roasted pork, molasses from baked beans, fresh-baked rolls and sweetly scented fruit could not complement better the aromas of pine forest, soil, running rivers and sunshine.
Western Weddings: Want it to feel just like Texas in Northern Ohio? We're on it, with an array of dishes that hail straight from the country down south. Slow-smoked meat and delicious smoky flavors will complement those cowboy boots perfectly.
Barn Weddings: Nothing says "rustic" like a barn. If you're going for a candle-lit event that could just as easily have taken place two hundred years ago, then our old-timey, home-style cooking is just the ticket.
Famous Dave's for Any Occasion!
Have another upcoming event that needs the perfect dishes to complement it? We're happy to help, and can customize a menu to your exact specifications, to fit your event and location in style. All you have to do is give us a call, let us know what you're looking for and get planning with us. Our full-service menu and staff will make sure you get exactly what you need.