Where's the Best Corporate Catering Near Me? Find It At Famous Dave's
Food is the way to everyone's heart, and that includes your employees. If you're looking to create a top-quality company event that everyone will remember, let Famous Dave's in North Olmsted help. Our award-winning barbecue has earned us more than 700 awards throughout the nation, a shining testament to the utter amazingness that is our slow-cooked meats, sides, desserts and service.
Excellent food is the perfect way to create a down-home experience that will please your employees, knit together a crowd and forge a lasting memory. No matter what your event covers, you want your employees, business partners and any family who might be attending to be in good spirits. Whether you're celebrating a ribbon cutting or launch, just spending time together or – it happens – making the end-of-quarter sales goals, you need the right fuel and Famous Dave's can provide it.
The Perfect Catering Company for Office Parties and Business Lunches in North Olmsted
Barbecue is the answer to so many things, in our humble opinion, and business lunches are no exception. Corporate get-togethers go so much more smoothly when everyone can look forward to an excellent lunch, and feel completely satisfied later. (And, most likely, enjoying an ongoing affair with the leftovers.) We make catering your company lunch easy, with a huge range of menu options, including:
Tender, Juicy Meats: Smoked and slow-cooked options include sausages, brisket, ribs, chicken, pulled pork and more
Home-made Sides: Green beans, baked beans, mashed potatoes, potato salad, coleslaw, cornbread, fresh fruit and even appetizer delicacies like smoked salmon spread
Decadent Desserts: Bread pudding, brownies and more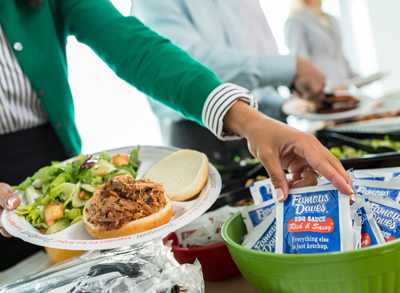 Delicious food does more than satisfy our appetite. It bonds us together. You can use our food to create conversations between people who are just meeting each other, to smooth the edges of a tough interaction and to help relationships bloom. When two people share a roasted chicken, or a crowd laughs at everyone else's attempts to get barbecue sauce off their fingers, friendliness ensues. That's exactly what you need at your event, no matter what the stated purpose of that event is.
Plus, when you order from Famous Dave's, you do more than just give your employees a treat. Famous Dave's in North Olmsted gives back to our community, doing charity work and playing an important role in the local community. So why not support a local business that helps out the community? Famous Dave's supports organizations in which we believe strongly, we provide jobs for people and we help keep your organization strong with happy get-togethers and events.
Plan the Perfect Corporate Meal in the Cleveland Area and Northern Ohio
If you're looking for the ideal meal for your corporate event in Cleveland or the surrounding areas, we're here for you. You'll be doing good while eatin' good, and what could be better than that?
No need to worry about how much food to order. We'll take a head count and discuss your options, such as which dishes you want and what kind of service you need, then give you a firm quote. We'll work within your budget, helping you maintain that corporate credit card. Don't wait any longer to call Famous Dave's today!
Don't plan a party without great food. For more information on our corporate catering in the Cleveland area and all over Northern Ohio, call our Catering Hotline at (855) 783-8646 or Request a Quote today!