The Best BBQ for Birthdays, Holidays, & Parties in Cleveland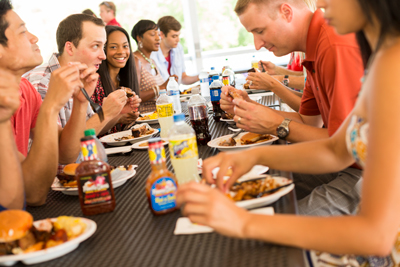 Catering you can count on in the Cleveland area and Northern Ohio is here! Well, to be fair, Famous Dave's has been here for a while. With numerous locations and more than 700 awards earned nationwide, we a have well-established reputation for catering the most delicious food around. But we might be new to you – in which case, what are you waiting for? We provide the absolute best array of barbecue dishes and sides in the Cleveland area, and that's not just us saying that: Ask any of our diners, and you'll get the same answer.
Our goal here is always to provide you with an expertly catered meal backed by friendly and experienced service. We help you feed a crowd at a great price, and our authentic southern flavors are the perfect complement to any large crowd, corporate event or family get-together. If you'd like to learn more about our catering choices, feel free to call today … or read more here.
Your Local BBQ Catering Company for Indoor or Outdoor Events in the Cleveland Area and Northern Ohio
One of the biggest upsides of ordering catering from Famous Dave's is our flexibility. We don't offer a one-size-fits-all package and force you to take it or leave it. Instead, we offer a huge range of options, from different menu types to settings to service.
Is your event taking place indoors? No problem. We'll set up a classic buffet table with bright, shiny warming dishes, full service and a friendly staff to refill plates and answer any questions you might have. Our barbecue options are perfect, encompassing a wide range of meaty entrees, vegetarian dishes, sides and desserts. With ice-cold drinks and disposable place settings, you won't have a single thing to worry about. Food-wise, at least.
If you need catering for an outdoors event in Cleveland, we can help you there too. Our tray service or food truck could be the perfect choices for your backyard event, your company picnic or a wedding in the park. No matter what you're celebrating, you need a good catering company with excellent service and Famous Dave's delivers it. Wherever your event is set, you'll find our menu to be perfect for:
Weddings
Showers
Rehearsal Dinners
Retirement Parties
Birthday Parties
Graduations
Holidays
Corporate Events
Family Picnics
Reunions
… and more.
Affordable Catering, Quality Cooking, Friendly Service, Community Support and Lots of Options in North Olmsted
Anyone searching for fun and affordable catering for their party will love the options here at Famous Dave's. To get started, all you have to do is get in touch and let us know your date and what you're looking for. We will walk you through menu and service options, helping you customize your meal to match your event perfectly. Once you've given us a firm headcount and we've settled on a menu, you'll get a quote – and we'll stick to it. No extra fees on the day of, because we don't believe in that.
And when you choose Famous Dave's in North Olmsted, you can feel good about doing something for your community as well. We believe in charity and local hiring, helping to deepen ties between our restaurant and your community with every meal we cater. Find out for yourself by calling our catering specialist today.
For more information on our amazing bbq catering packages, call our Catering Hotline at (855) 783-8646 or Request a Quote today!