Who's the Best Wedding Caterer? Try Famous Dave's in Cleveland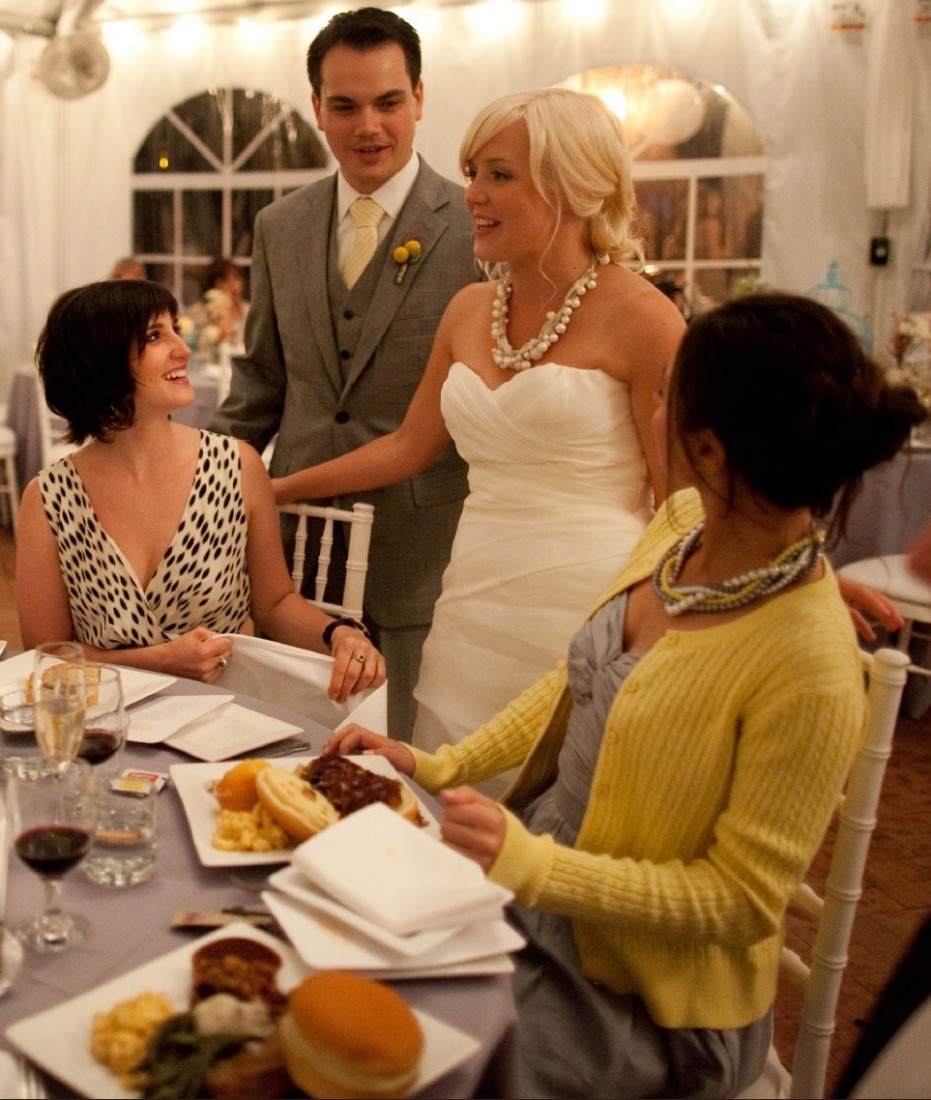 Your big day is all about saying "I do" in the presence of the friends and family who have nurtured both of you to this point. But we all know it's about more than that: It's about the flowers. The seating charts. The first dance song. The band or DJ. The favors and colors and dresses and boutonnieres and sparkling wine … and of course, the wedding catering. Ah, yes, the food. What wedding would be complete without a complete array of appetizers and entrées, salads and rolls, beverages and service? Here at Famous Dave's in North Olmsted, we take care of all the fixin's for you so that you can worry about the bigger things: seeing everyone on the guest list, making sure Aunt Mary and Cousin John don't get into another public fight, and not tripping as you walk down the aisle.
Not that you'd trip as you walk down the aisle, of course. But here at Famous Dave's, we want to make sure that you can put all your attention on the details that make your wedding special, while we focus on providing the down-home grub (aka wedding catering) that will ensure everyone has the best possible time.
Famous Dave's Is the Favorite Caterer for Outdoor Weddings, Casual Weddings, Western Weddings and Barn Weddings in North Olmsted
We're not saying barbecue isn't the perfect meal to serve at any type of wedding, because honestly, we couldn't in good conscience say that. What we are saying is this: a delicious meal of slow-cooked ribs or brisket, some perfectly smashed red-skinned potatoes, the greenest beans and the most perfectly flavored coleslaw make for the ideal casual experience. Barbecue is perfect catered food for:
Outdoor Weddings: Nothing is more perfect for big days set out in the beauty of nature than barbecue. The aromas of roasted pork, molasses from baked beans, fresh-baked rolls and sweetly scented fruit could not complement better the aromas of pine forest, soil, running rivers and sunshine.
Western Weddings: Want it to feel just like Texas in Northern Ohio? We're on it, with an array of dishes that hail straight from the country down south. Slow-smoked meat and delicious smoky flavors will complement those cowboy boots perfectly.
Barn Weddings: Nothing says "rustic" like a barn. If you're going for a candle-lit event that could just as easily have taken place two hundred years ago, then our old-timey, home-style cooking is just the ticket.
Casual Weddings: We've got casual down to an exact science, with effortless food time-tested by thousands upon thousands of happy diners. Want to take casual to its zenith? Try our food truck, which we can set up on the property to serve guests.
Call Famous Dave's for Wedding Catering in the Cleveland Area and Northern Ohio
Anyone looking for wedding catering will find a perfect meal from Famous Dave's in North Olmsted. We have proudly served the Cleveland area for years, and in that time have earned more than 700 awards, proof positive of how happy our customers routinely are. If you want to discover the magic of perfectly cooked barbecue and delicious, just-like-mom-made-them side dishes, not to mention the highest quality service, just call us today.
Don't plan your wedding reception without great food. For more information on our wedding catering in the Cleveland area and all over Northern Ohio, call our Catering Hotline at (855) 783-8646 or Request a Quote today!