BBQ Catering in Cleveland for High School & College Graduation Parties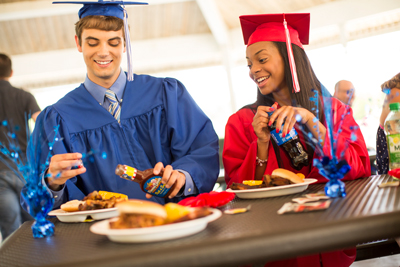 Looking for the food that will jumpstart your graduation parties? Whether you're planning a high school graduation, college graduation or a special event for a particularly well-educated young sir or lady (hello BAR exam!), we've got you covered. With expertly slow-cooked and grill-finished meats, nestled up close to the most delicious sides, we can cater any Cleveland area party in style.
We've perfected the indoor/outdoor catering model, too. If your party is situated in someone's home, school or community center, we can set up a shining buffet to please even the most persnickety old grandma. Maybe you're celebrating outdoors, in which case you might enjoy the casual touch of our fire-engine-red food truck. Whatever your goal for the setting; day or night, inside or out, casual or less-casual, we will meet your expectations. And judging by our more than 700 awards around the nation, exceed them as well.
#1 Answer to the Question "How Do I Find Affordable Graduation Catering Near Me?"
You have an ideal budget. We get it. So, we offer a variety of food to mix and match to meet your goals. No one can deny, that every successful graduation party starts with delicious food. And Famous Dave's is our favorite option for graduation parties on any budget. If you love delicious, slow-cooked meats finished on the grill for that crispy texture, you'll love the options we bring to every event. You can choose your favorite from our offerings, which include:
Meat Selections: St. Louis-Style Spareribs, Texas Beef Brisket, Georgia Chopped Pork, Country-Roasted Chicken, Barbecue Chicken, Barbecue Pulled Chicken, Hot Link Sausage, Grilled Salmon, Grilled Chicken Breast
Side Dish Selections: Wilbur Beans, Creamy Coleslaw, Potato Salad, Garlic Red-Skin Mashed Potatoes, Dave's Cheesy Mac & Cheese, Green Beans
We also offer a variety of salads, fruit, appetizers (we're just saying: salmon spread) and more. No matter what kind of menu you're envisioning for your graduate, we can help you create it. Customization is what we do, as is affordability. When you work with us, we'll take a head count and draw up a quote based on that and the menu. You'll know exactly what your food budget is, so you relax and enjoy the party. The only thing to worry about is the weather and how you'll keep barbecue sauce out of your fingernails.
The bottom line is this: Barbecue is a crowd pleaser, and Famous Dave's expert Pitmasters cater barbecue the best it can be done. Call today to find out more about how Famous Dave's in New Olmsted can help your party be a success!
If you're ready to cater your graduation event in style, please reach out today. We would love to walk you through your options, help you pick a service style – pick up, drop off or full service – to best meet your needs, and get you on the books. Nothing makes a perfect day like the perfect food, so don't hesitate to get in touch. Your guests, and your stomach, will thank you.
Your child has accomplished great things by graduating; why not give them a party that is equally great? For more information on our graduation catering in North Olmsted and the Cleveland area, call our Catering Hotline at (855) 783-8646 or Request a Quote today!