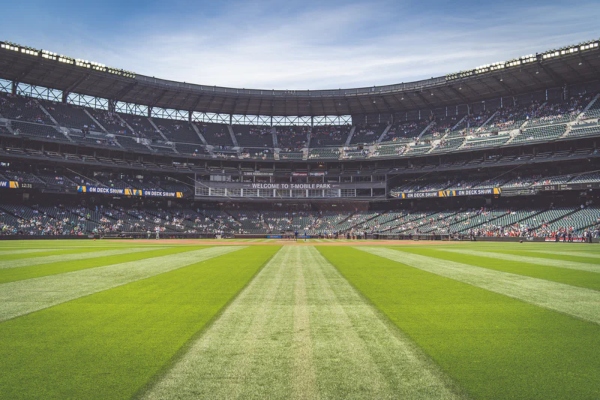 After a challenging year, sporting events are starting up again with a live audience. We are sure a lot of you will be reveling in the opportunity to get together with your friends and watch your favorite teams live. So, to make sure the occasion is one to remember, why not go to Famous Dave's before or after the game for some great BBQ food?
Keep reading for our top reasons to choose Famous Dave's for your big game meal.
1. A great meeting place
One of the main reasons why Famous Dave's is such a good choice for your pre or post-game meal is our many locations. Check out our locations page to find the Famous Dave's closest to you. Famous Dave's is an ideal spot to meet friends before the game and build up the hype for the event. You can expect that big game atmosphere that you all crave!
2. Carpool from the restaurant
Not only is Famous Dave's situated in convenient locations, but you can carpool from the restaurant to the stadium too. Use our parking lot as a gathering spot before you grab some food inside then head out to the game. We know there is nothing worse than trying to find a car parking space on match day, but this is something you will not have to worry about here.
3. Tasty, filling food
Of course, the main reason why Famous Dave's is such an amazing game-day spot is our delicious food. Check out the menu to see what is available in full. You can expect good ol' BBQ food; tasty and satisfying. There is something for everyone from hand-breaded crispy chicken tenders and sweetwater catfish fingers to ribs and burnt ends. Don't forget our tantalizing sides and our signature sauces. Our combos are particularly popular, especially on game day!
Not only does our food taste amazing, but it is filling as well. We don't scrimp on portion sizes here. After all, you need to make sure you get a good meal in your belly before a busy day preparing to or recovering from cheering on your favorite team!
4. Make sure you save some room for dessert
If you can, we would definitely recommend that you save some room for dessert! Dave's Award-Winning Bread Pudding is not to be missed. Served with a beautiful pecan praline sauce, as well as whipped cream and vanilla ice cream, this treat is not one to miss. Our Down Home Banana Pudding is also very popular - with a recipe and taste that brings home-style cooking to the comfort of a restaurant.
Book a table at Famous Dave's ahead of the big game
Make your next sporting event one to remember by heading to Famous Dave's either before or after the game for some delicious food. With delicious BBQ food and an impressive drinks menu, this is the perfect spot to spend some time with your loved ones before or after the game. Give us a call today to book a table.