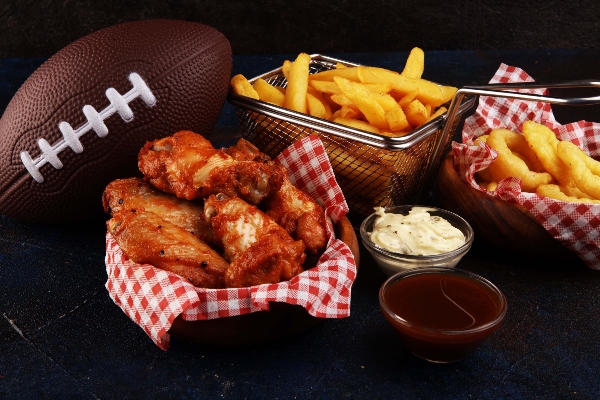 What a wild year it has been for sports! From no sports to some sports to sports played in empty stadiums, 2020 was a year that gave us an entirely different experience with professional sports. Fortunately, things are getting better with COVID responses and sports, particularly football. This year, we have Super Bowl LV between the Kansas City Chiefs and the Tampa Bay Buccaneers.
Since most of you will be watching the game at home with your loved ones, some fun super bowl snack ideas will make your super bowl party fun. Keep reading to learn our tips from DIY to catered BBQ dishes.
Super Bowl Snack #1: Wings
Wings are always a crowd favorite. Stadiums, restaurants, bars, and parties all over choose wings so you can just grab 'em and start munching without missing a moment of the game. You have some options here:
Easy Peasy - Grab a bag of frozen wings and bake them until ready!
Next Level - Try your hand at making your own wings. Don't forget to grab the right BBQ sauce.
Maximize It - Check out catering options for wings. Famous Dave's has several wing options on our catering menu.
Super Bowl Snack #2: Nachos
Speaking of super bowl staples, no one could forget about nachos. Nachos are so versatile and can be tailored to many dietary restrictions. Whether you will be feeding vegans, people who are lactose intolerant, or other needs, nachos can fill in the gaps.
Easy Peasy - Many grocery stores will have nacho kits that have everything you need. Check out the Latin or Mexican food section.
Next Level - Throw together some nachos tailored to your group. If you are looking for where to get started, try this nachos recipe.
Maximize It - Keep it simple and get your nachos catered or ordered out from Famous Dave's.
Super Bowl Snack #3: Sliders
Why have a whole burger clog up your appetite when there are so many foods and drinks to sample?! Sliders are a great choice to give your family or friends something to chomp on without being overwhelming. Have several on hand so people can take one or a few. Just like with the nachos, adjust the sliders to your people's needs.
Easy Peasy - Go with the traditional burger-style sliders. Here is a recipe for mini cheeseburgers.
Next Level - Try mixing it up by combining dishes. This recipe teaches you how to make pizza sliders.
Maximize It - You guessed it, Famous Dave's has Sliders! Check out our customizable sliders when you give our team a call.
What Do I Need to Know About the Super Bowl Game?
Super Bowl LV will kick off at 6:30 on Sunday 2/7. There will be pregame coverage starting earlier in your day so you can make the game a day-long event. Don't miss the three-time Grammy Award-winning musician The Weekend perform during the halftime show.
Make Your Super Bowl Party a Success with Catering from Famous Dave's
There are so many wonderful options to select from for super bowl snacks. Keep your guests happy and comfortable with all the food they will want for this year's upcoming game day. If you are into cooking, try one of our recipe selections above. If you have a lot on your plate, try the catering or take-out options at Famous Dave's. Our award-winning sauces and BBQ dishes will leave your guests smiling while licking their fingers.